I visited Hintertux last year, during my little "glacier tour", but back then the weather was truly winterish.
This year it was different, because the weather was good, and there was still a lot of snow and so skiing was unbelievable. Hintertux is a year-round resort and in the summer skiing offers about 20 km of slopes (the actual number varies, depending on conditions and athletes' trainings) . Unlike other noble summer resorts, such as Zermatt or Passo Stelvio, Hintertux offers not only t-bar lifts, but also gondolas and chair lifts.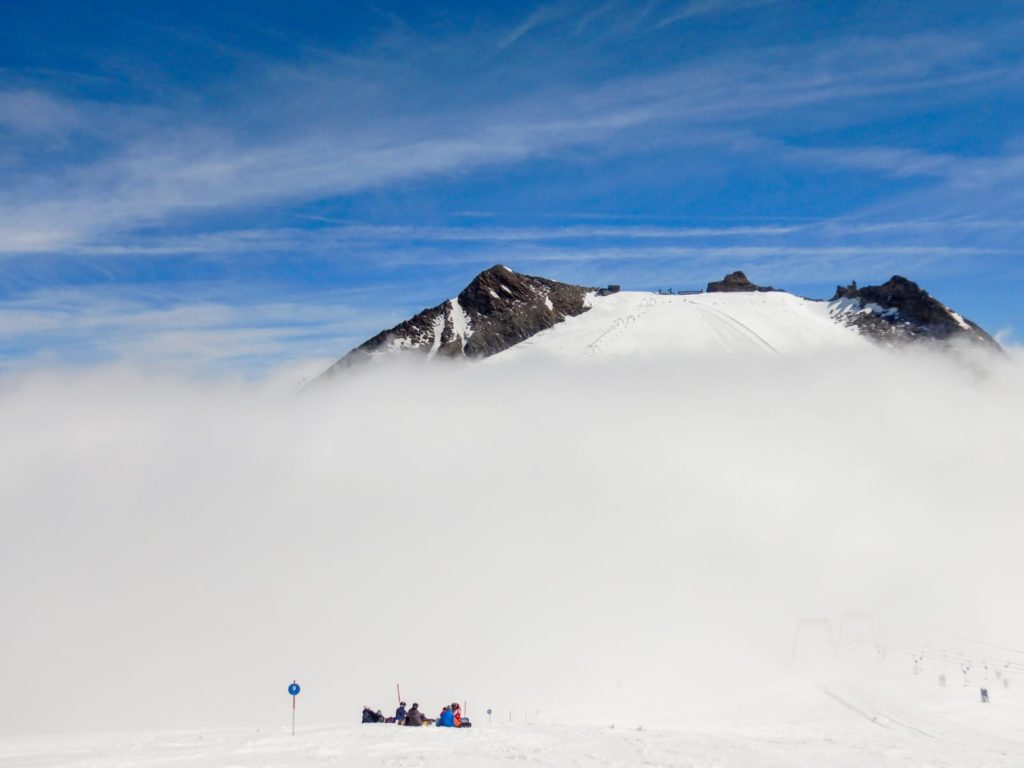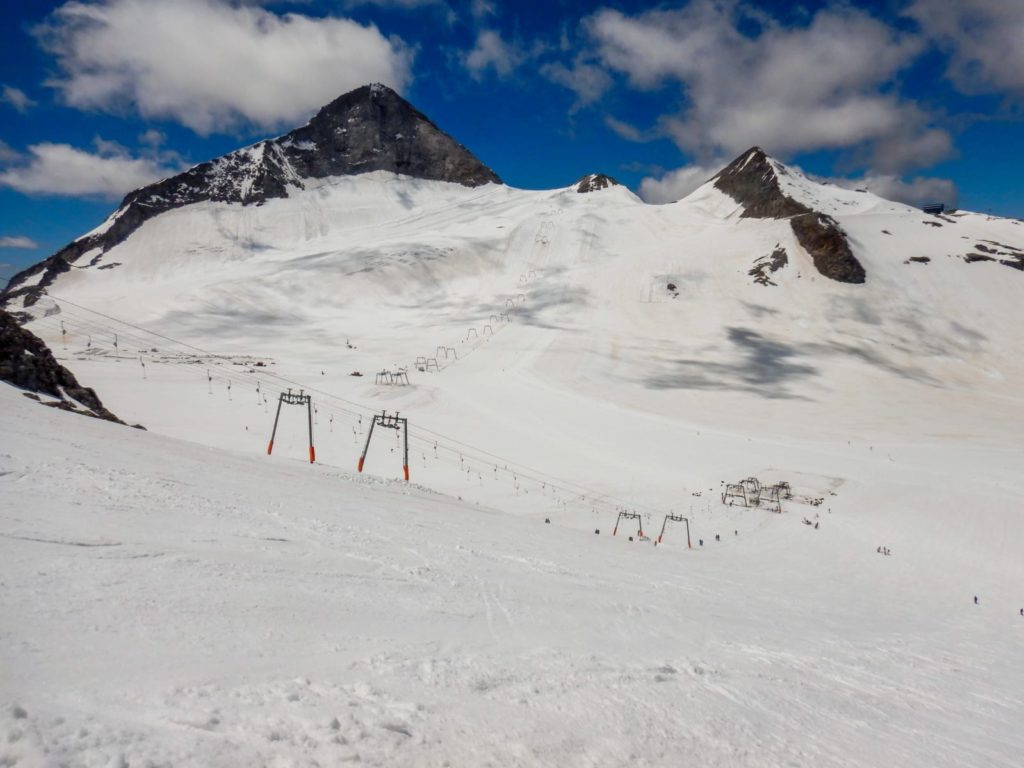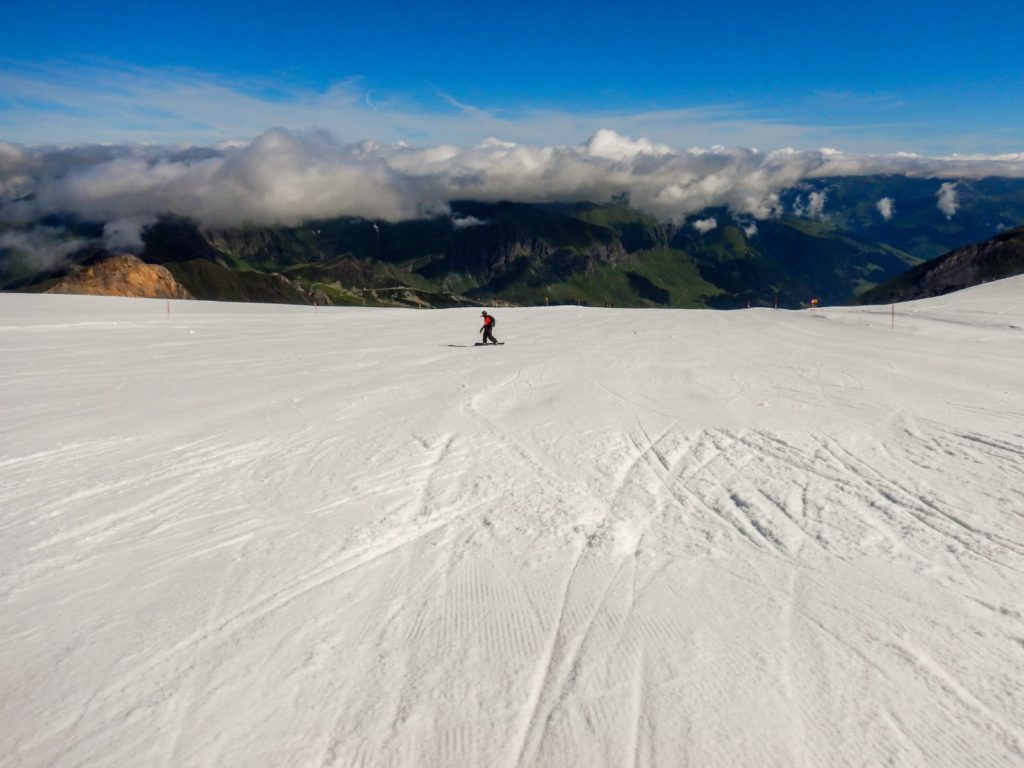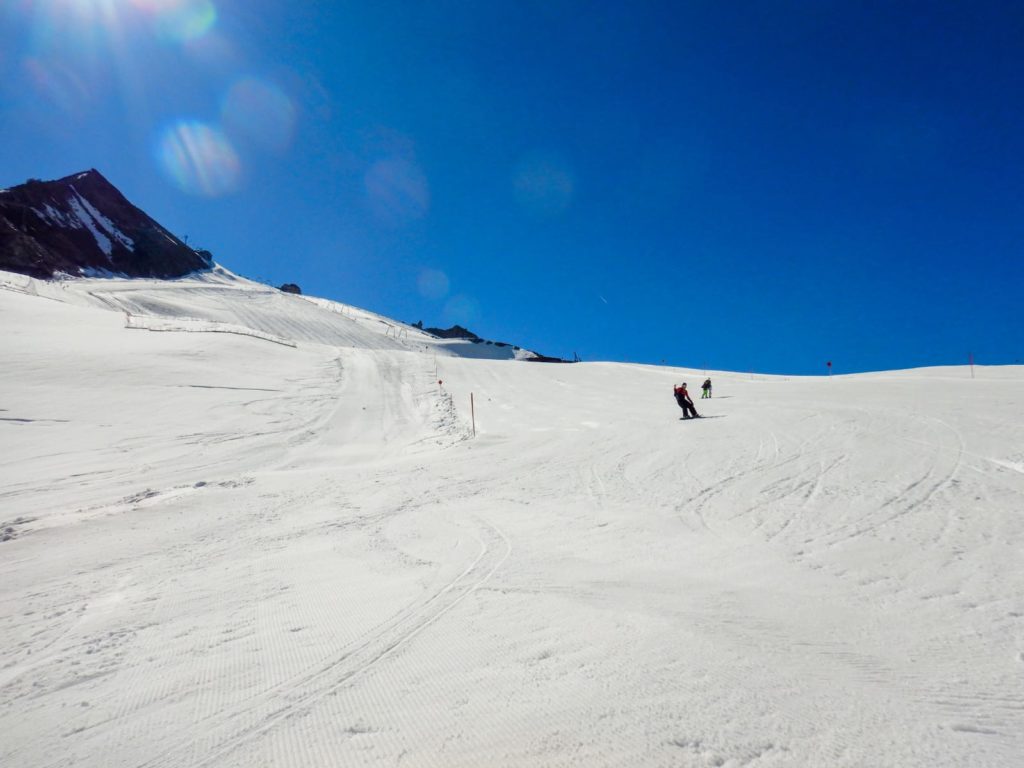 Another difference are the opening hours – although in Switzerland and Italy the lifts take off at 7.00 am, they close quite early – at 12.30-13.00. On Hintertux, if you can enjoy skiing until 4 p.m. (as long as you can handle heavy, slushy snow),
The conditions are nice until noon, and it can get very icy and hard in the morning! What's cool about summer skiing is that even if we finish in the afternoon, we still have a lot of day left to enjoy. Besides summer skiing, we can find here many other interesting activities.
For example, this year I finally decided to visit the inside of the  glacier. The tickets can be bought in a small shed by the top station. Normally, you have to join a scheduled group tour, with no photos allowed etc. However, the coronavirus made everything easier. Groups are no longer allowed, so you just buy the ticked for 26 euros  and jump into the icy abyss!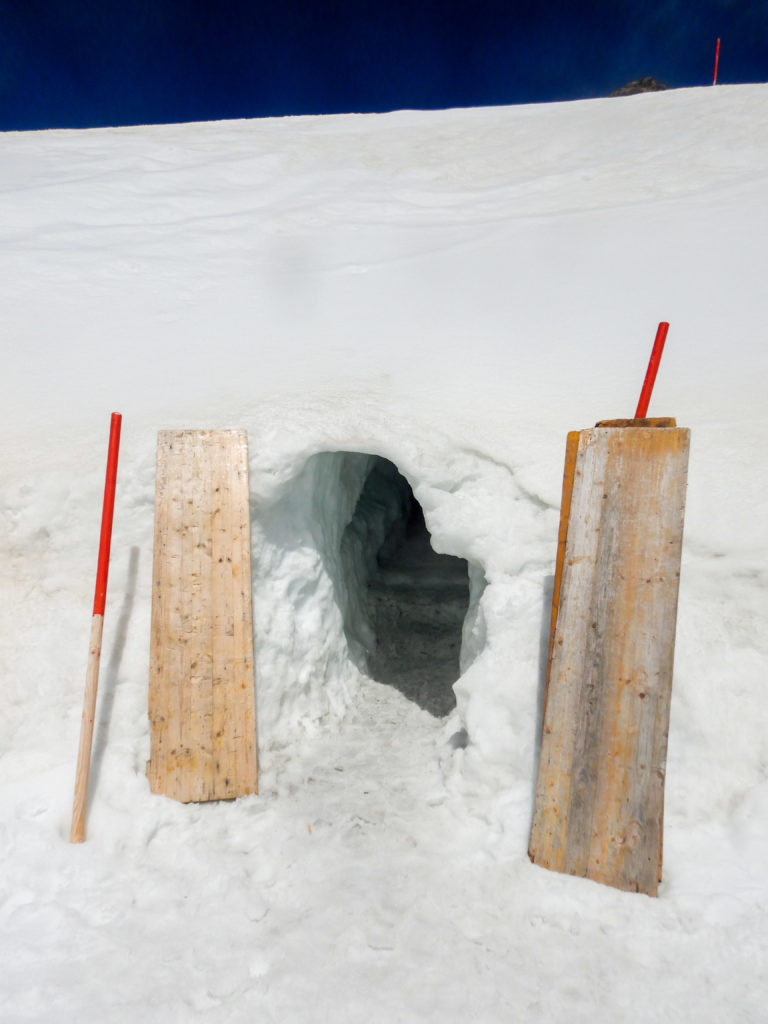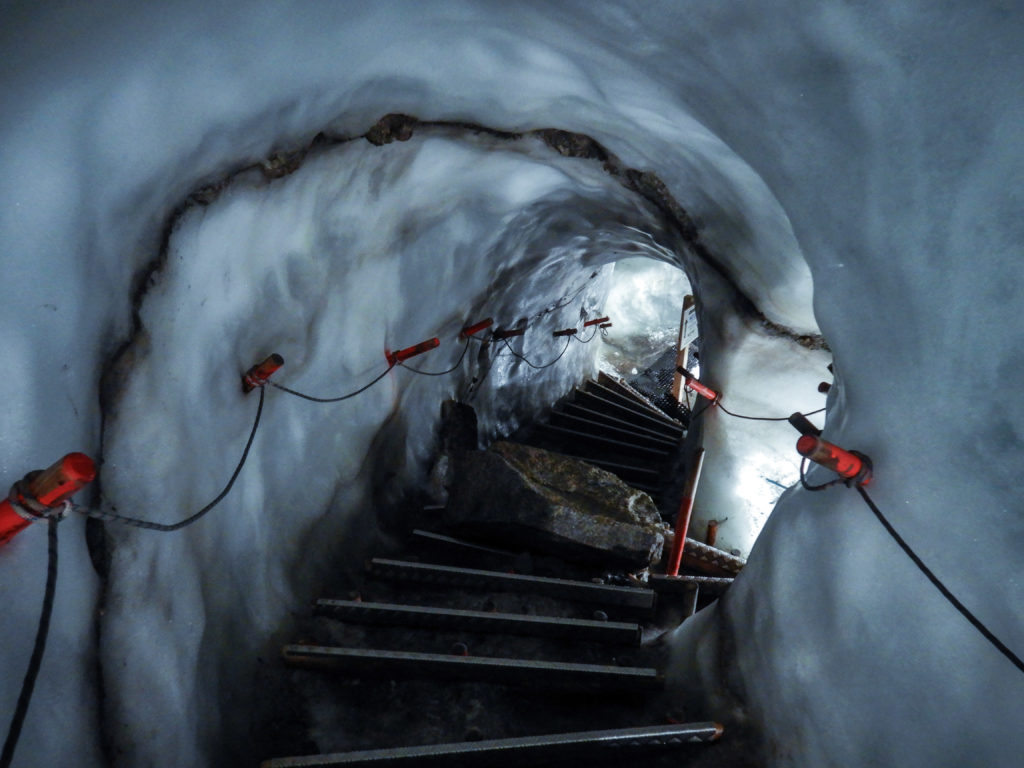 The entrance to the glacier is located approx. 200 m from the top station. At the altitude of 3000 meters above the sea level, such a walk can make you dizzy, because the air is a bit thinner. This effect is intensified in cramped, icy caves, where it is difficult to breathe and people prone to claustrophobia may feel quite uncomfortable .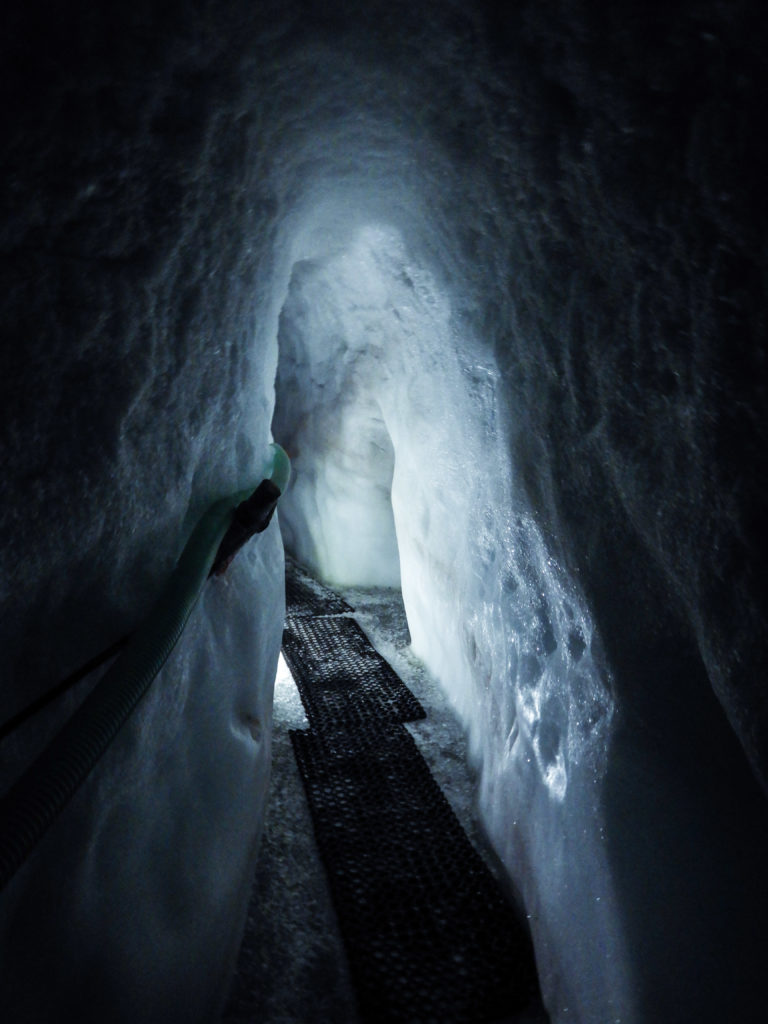 At the entrance to the cave you learn from the staff that smoking and drinking alcohol is not allowed inside the glacier ("except schnapps; schnapps is always allowed"), and then we're left alone. The glacier is ours. The tour consists of two routes, located about 20m below the  "Gefrorene Wand" slope. It is cold, slippery and wet, and the sightseeing is helped by rubber mats, rope handles, and sometimes ladders.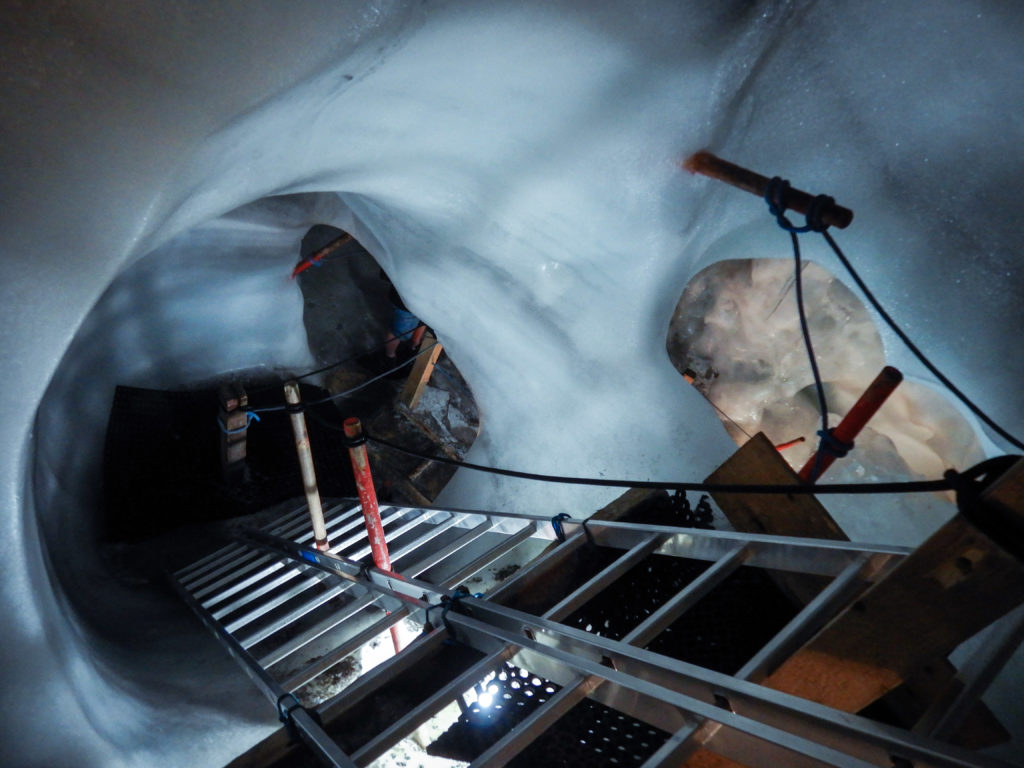 The interior is indeed very glamorous, but sometimes also gloomy and trashy,  with colorful lights and unnecessary decorations.
In my opinion, there is not enough scientific curiosities, like some information about the glacier itself, its structure, processes taking place in it, etc. It is , however, possible to buy a "cruise" on a inflatable boat, but this is total nonsense, as the distance we travel is about 5 meters.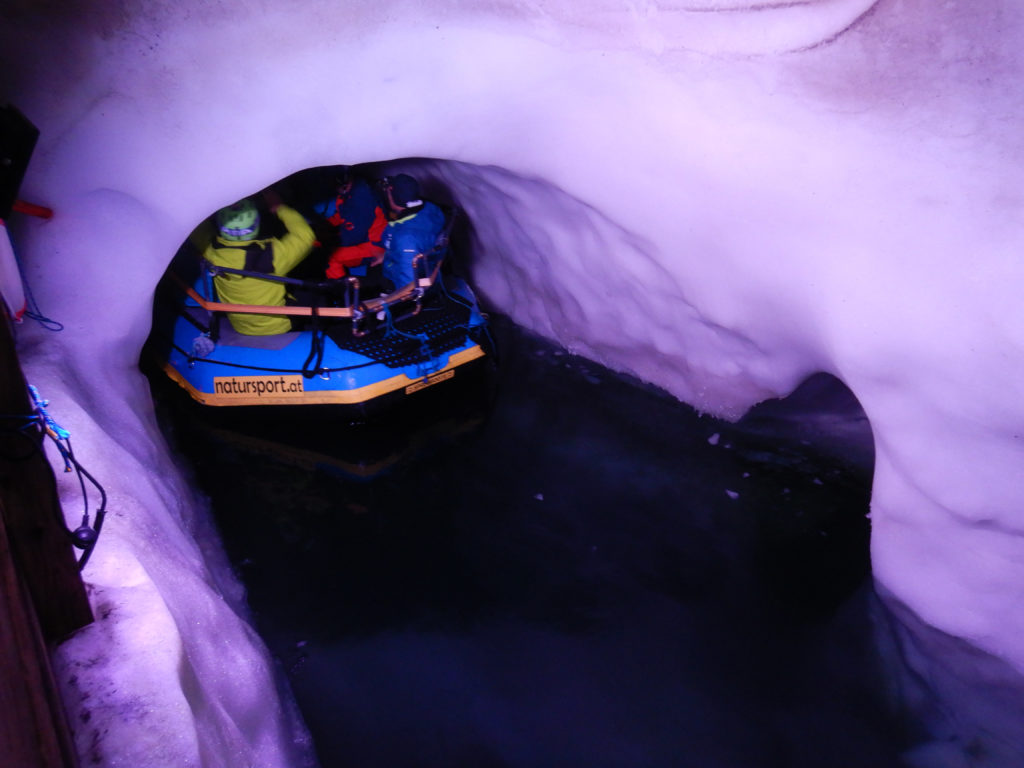 I was quite surprised that my mobile phone worked despite the thick, ice walls  – I could pick up a call and clearly explain that "I can't talk because I'm in the glacier".
Summing up: I recommend the trip, but everyone should make their own decision. If someone spends 100 euros on a family trip, and the family decide not to enter a dark, icy hole, then Roman Erler may not be eager to provide refunds..
***
Of course, I could rent a regular bike and climb 2400 meters up above the sea level. To some extent I was even prepared for it, because my insurance policy covered the transport of the corpse back home…
E-bike cause a disgust among "real" cyclists not smaller than an automatic loom among nineteenth-century seamstresses, but it  turned out to be a fantastic invention!
Firstly, it is not a moped, so you still need to push the pedals to go.
Secondly, you still need to have a certain idea of riding a MTB bike, because climbing steep, rocky paths, even with power steering, is one thing, but the other is to ride down safe and sound, and it also requires some skills.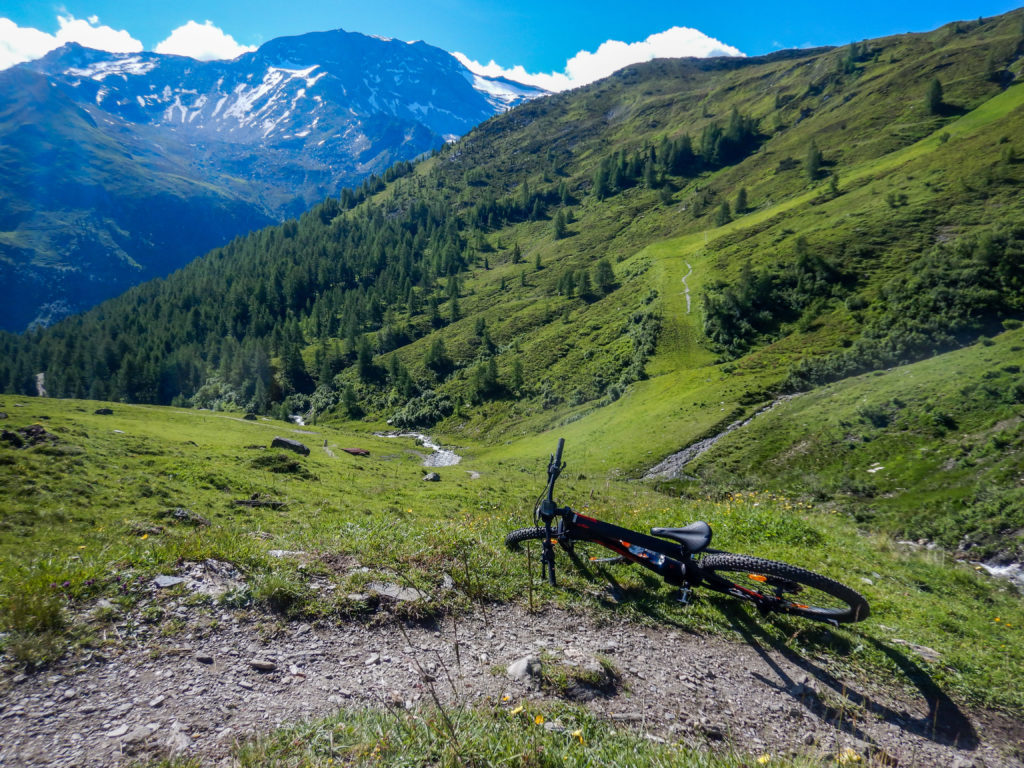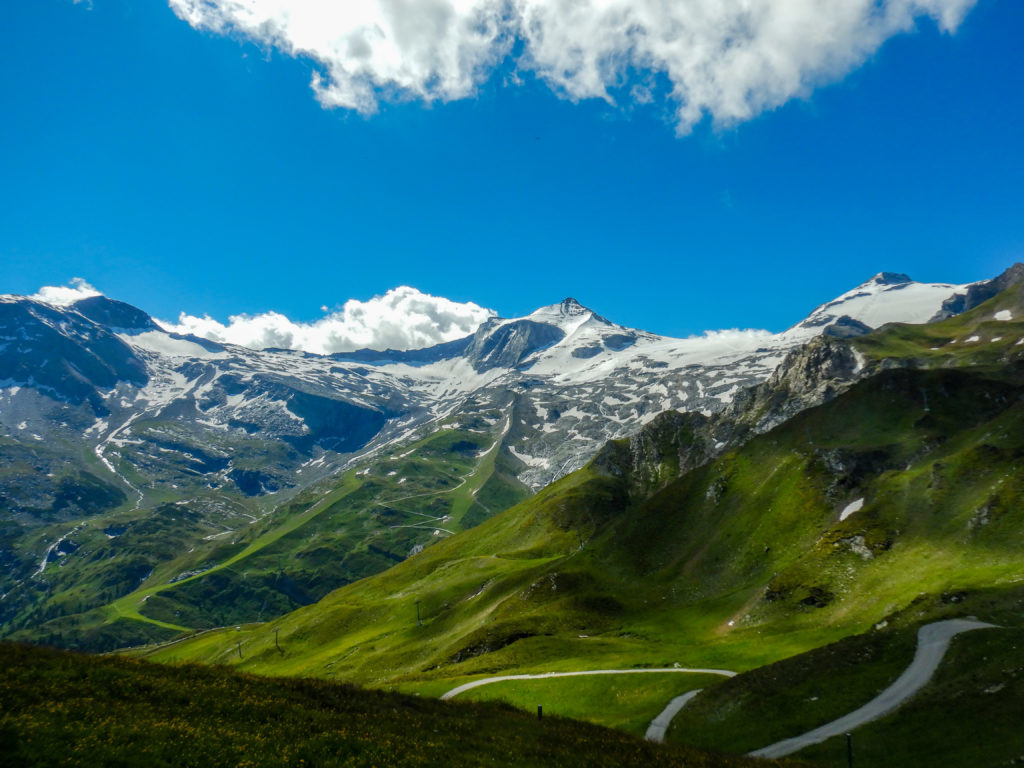 Thirdly, such a bike gives an incredible range and is perfect for a ride focused on sightseeing and admiring the views from the perspective of mountain trails.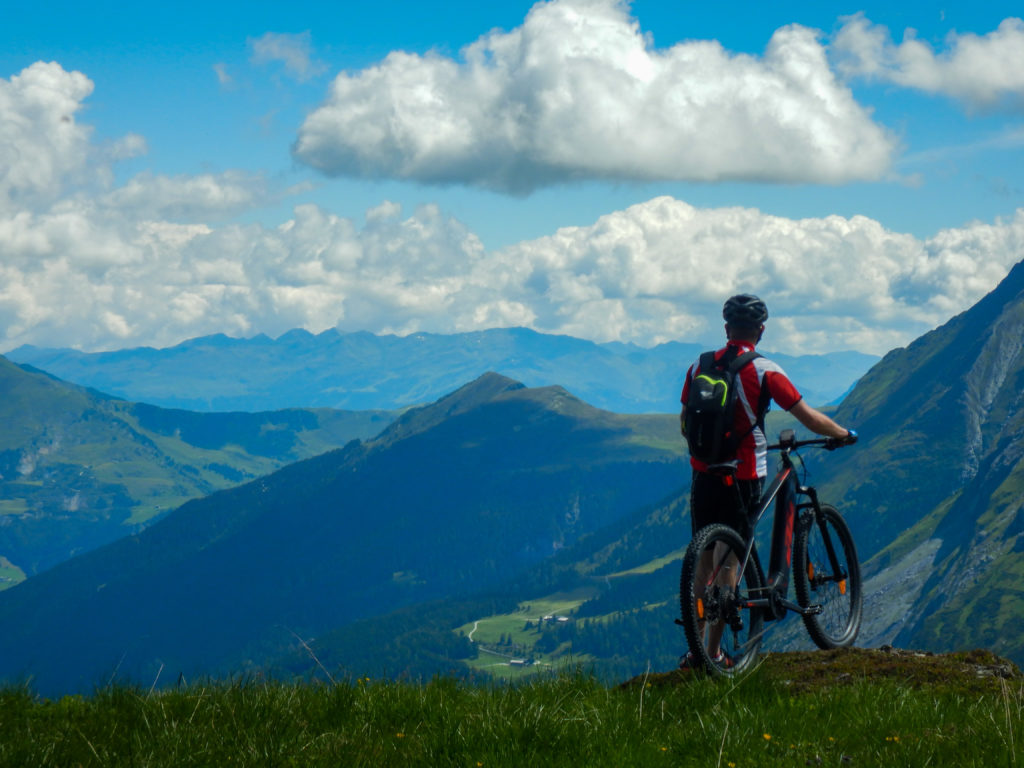 I could run a fanpage about the sport I hate and I would have enough content for years ;).
However I did enjoy the e-bikes and they will probably become a part of my alpine trips.
The cost of renting one is about 30-40 euro per day.
There are plenty of rentals, and the extremely lazy people can take the bike up with the lift and start enjoying the sights right away.